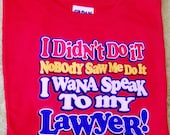 In my last post, I wrote about the two words every person facing a sentencing hearing must say. Words are important . It is not only how we say them but what are the words. Sometimes we need magic words. Time and time again I see folks facing a criminal investigation speak with police and law enforcement . Just today , a case where a person may have avoided getting arrested turns into a criminal conviction because they voluntarily spoke with a police officer.
What are the seven magic words that everyone should know when confronted with criminal investigation ? I want to speak to a lawyer. Why are these magic words ? Prosecutors may now discuss to a jury if you wanted to remain silent. If you ask to speak to a lawyer , evidence that the defendant invoked his or hers right to counsel in impermissible. See St. v.Johnson 743 S.W.2d.154(Tenn.1987). The reason why you are allowed to speak with a lawyer is nobody needs to go it alone in the criminal process. Police have training in getting statements and they use all their tools. we are trained to cooperate with the police from childhood. It is a natural human reaction. However , police calling you up to talk about a drug prescription or knocking on your door on a knock and talk signals a red flag.
My bottom line best advice to all those facing criminal charges from shoplifting to child pornography to murder is those seven magic words. I want to speak to a lawyer.